Get started today
You can start using Feedlync in less than an hour. That is digitalisation with instant value.
Flyer & Documents
Want to know a little more about Feedlync before signing up for a free trial?
How does it work?
You control feeding with a system that saves you time every day and gives you a full overview.
Contact us
We are happy to help and answer any questions you might have. Call us or fill out our contact form, then we will get in touch.
Get a product demo
We know that it is often much better to see all the details for yourself.
Help center
Questions? Something you can not make work? Need some good advice? Either way, we're here to help you. If you did still need help please call us or fill out the contact form.
Portal login
Log in to the Feedlync dashboard, See real-time data visualisation of your farm KPIs. See how your business is performing, pull reports and much more.
FAQ – Frequently Asked Questions
How fast can I get started using Feedlync? Why do I need to subscribe? Can my employees connect to Feedlync? Find the answer to your question in our FAQ or contact us.
Get application
Download Feedlync for free for mobile devices. Update feed plans on the app instantly and on-the-go. Get our app for iOS, Android today.
Feedlync app
The Feedlync app lets you control the Feedlync system with products that are compatible with the app.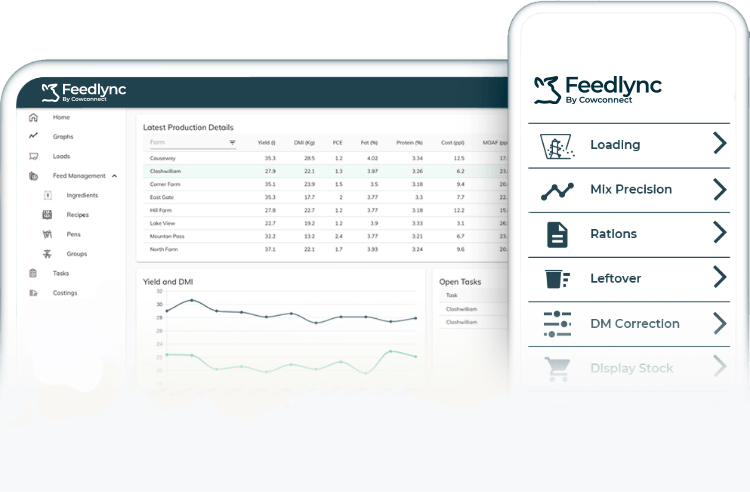 Feedlync collaborates with several companies, each with their own expertise and location, contributing to the sale of Feedlync. We have the partners that give you and your company the right solution. 
At Feedlync, we regularly collaborate with various Domestic and foreign companies – We also collaborate internationally with universities around the world.
Do you want to partner up?
Feedlync is always interested in entering new and exciting partnerships with everything from a feeding consultant to a dealer. You are always welcome to contact us with inquiries and questions.
Take control with a system that saves you time every day and makes feeding cows a breeze.